All-inclusive robotic services from ICR
We provide Fanuc robotic training as a courtesy to our customers. We have a range of packages to offer with any robotic refurbishment or robot sales purchase. Our training staff possess over 30 years of knowledge gained working within the field of robotics. Training is essential to a productive plant floor and ICR Services can help.
ICR offers the most comprehensive training programs available that enables participants to work efficiently and effectively with automated equipment. Application specific robotics training is available for material handling, sealing, spot & arc welding.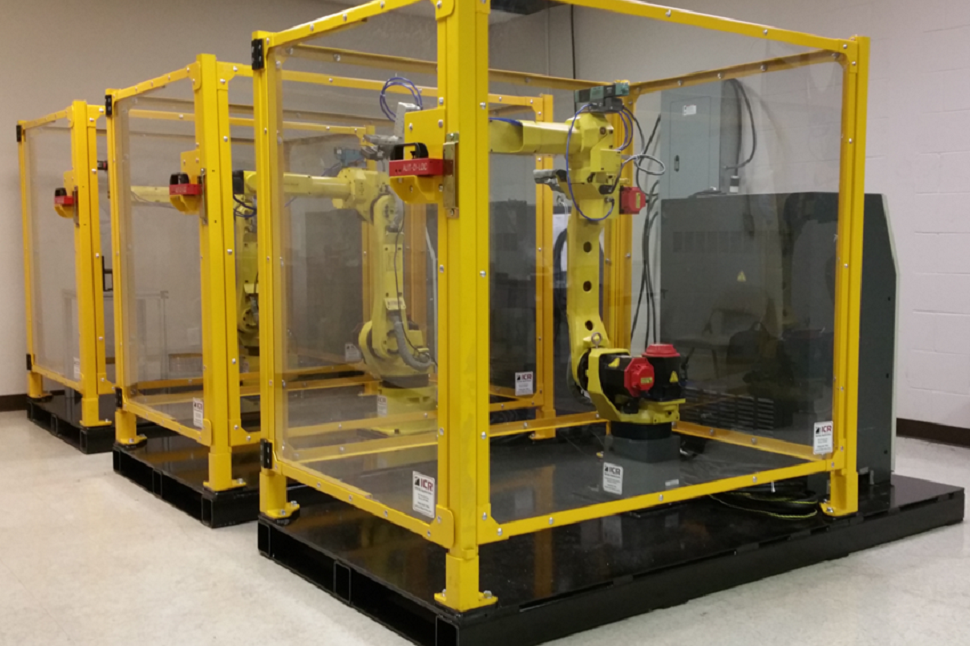 Fanuc Robotic Training for ICR Customers
Level 1 Operations, basic troubleshooting 2-day training course
Safety

Teach pendant navigation, menus and use of quick keys

System Components, Control Panel, Teach Pendant Navigation, Shortcut Keys, Status Indicators & Fault Recovery

Jogging and Understanding Basic Motion Types and coordinate systems to speed recovery & Point Touchup

Program Selection & Cycling, Understanding Program Structure and Program Instructions

Monitoring Inputs & Outputs for Troubleshooting

Automatic Mode Preparation and recovery from line stoppages, accessing the alarm screen for error codes and robot recovery
Level 2 Programming, basic troubleshooting 2.5-day training course
Basic Program Editing, Common Instructions, program development and testing

Macros, Macro Table & Manual Functions

Equipment Setup & application specific I/O

TCP Setup, Position Adjustment Features

Mastering/Fine Calibration, Single Axis Mastering

Backup and Restore Utilities
Interested in our Training Programs?
Fill out the form below and we'll have your ICR representative respond soon. Please provide us with as much detailed information as possible.
Thank you for choosing ICR!
[contact-form-7 404 "Not Found"]