Problem Solving with Robotic Solutions
ICR's customer, an auto parts supplier, inquired about our robotic integration services. They were looking for a robotic solution that dealt with the production process. The process involved the manufacturing of finished parts from raw pieces. We tasked one of our robotics application engineers with designing a unique solution. His challenge dealt with loading a raw part from an incoming conveyor belt into a machining system. Then, after exiting the machine as a finished product, using the same industrial robot, the finished part would move onto an outgoing conveyor belt for distribution. The customer further advised us that this solution would utilize manual assistance from human labor and not require a fully autonomous solution.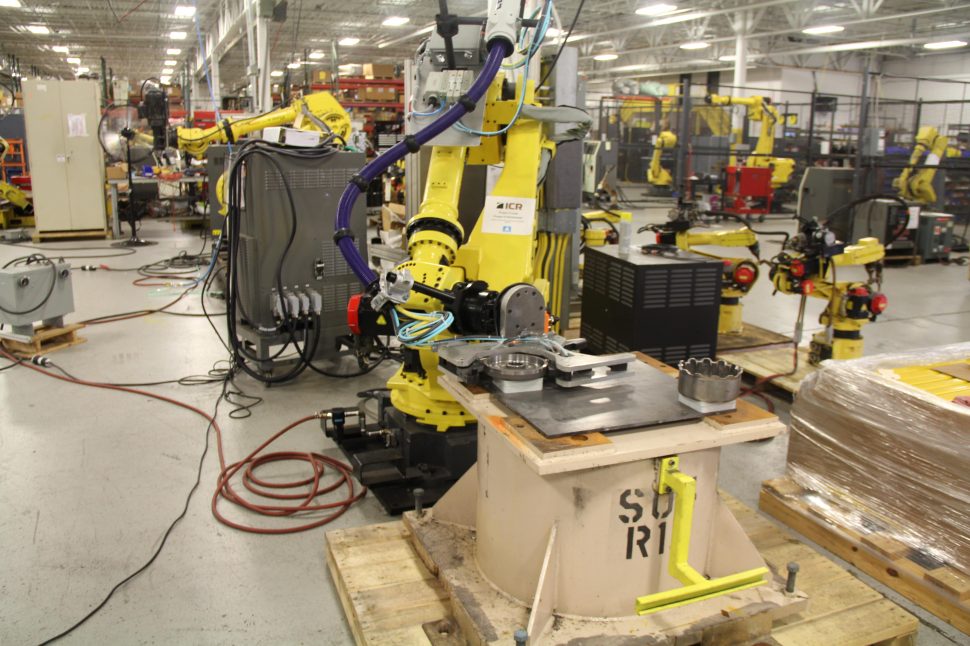 Planning the Robotic Roll Form Machining Project
Designing the system started with choosing with an industrial robot we would fit the based on the custom solution. ICR chose from our refurbished collection a Fanuc S-430iW robot manipulator with a payload of 165Kg and a 2,643mm reach. We paired this robot with a refurbished Fanuc R-J3 robotic controller with backed up by ICR's one-year in-service parts warranty from the date of installation. Next, came the most difficult point of the project design phase. As mentioned earlier, the project called for loading a raw part and then unloading the finished part from the roll form machining system placing it on an outgoing conveyor belt. Our application engineer chose to utilize ICR's custom designed End of Arm Tool (EOAT) solution, which entailed a specific option for dual part operation of both raw and finished part styles. In addition, we added a complete robot pneumatic dressout package including a Leoni cable and hose management.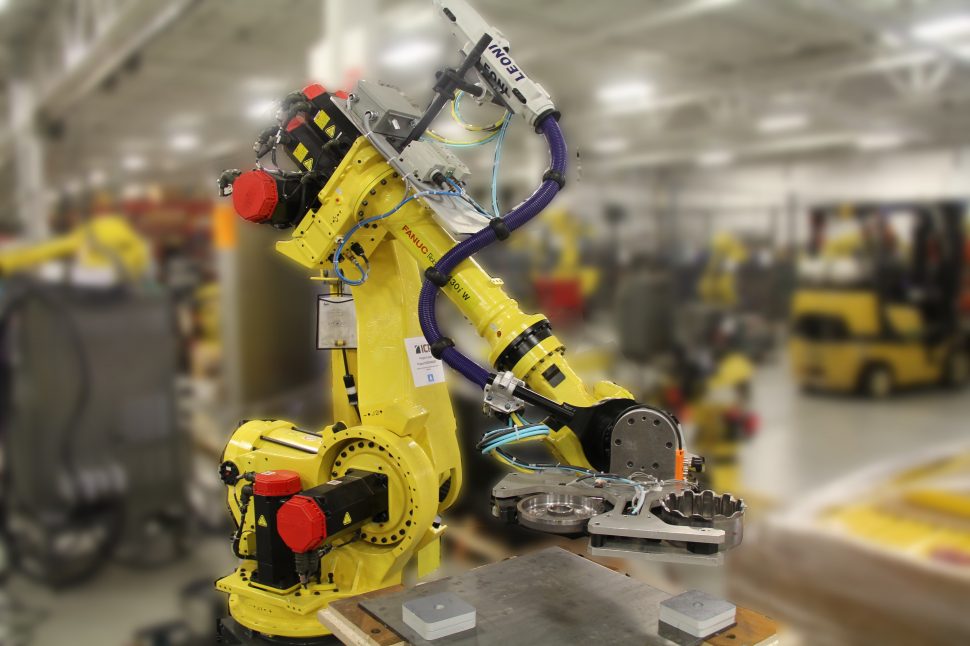 View Video
Adding an EOAT
When designing the EOAT, our application engineer focused first on the function of gripping the parts. It was important to concentrate efforts to design the robot to reach in from the side for ease of loading and unloading to, and, from the roll form machine. We then chose tubular steel with a welded bracket with provision for mounting to the robot face plate. Next, dual pneumatic parallel gripper assemblies were added and affixed with open/close proximity sensors along with part gripping finger assemblies with a non-marking material. The EAOT was then finished off with part present proximity sensors.

Electrical System Control
For the robotic integration cell to work properly, we also custom built in-house a fully functional electrical control system. We started by building an electrical enclosure to house a disconnect switch, an operator interface touch screen HMI, safety circuits, and various push-buttons and indicators, including the safety reset. We then installed a transformer to handle the plant's 480 VAC and convert that current into 120 VAC to properly and efficiently control the system. Then, we integrated the processor using an Allen Bradley PLC Series Controller to handle the cell and serve as the main power controller. With safety always top of mind for our robotics engineers, we added cell perimeter guarding and a safety gate for added protection.

Interested in Robotic Integration Services?
Please select the integration service of interest and fill out the form below. An ICR customer service representative will respond soon. Please provide us with as much detailed information as possible.
Thank you for choosing ICR!
[contact-form-7 404 "Not Found"]