Metal stamping facility improves quality and profitability with 3 newly integrated robotic spot welding cells.
Problem:
Production stampings facility faced several challenges before automating, which mainly stemmed from their inability to spot weld complex parts. Prior to installing the robotic cells, they had to outsource their welding processes, which in turn, substantially reduced their profit margin.

The Application: Canister housings for passenger-side and driver-side airbags.
Scope of Work:
A local integrator with experience in implementing robotic welding cells. The automated solution must produce 350,000 total parts per year to meet production requirements and contain the following:
3 robot base plates with mounting hardware
3 refurbished spot weld guns and controllers
Spot welding robot dress-out package
6 weld fixtures for the manual load and unload
1 fixture must act as a multi-axis positioner
2 operator access points for each cell
Challenge:
Designing one cell to produce 350,000 parts per year on two designs was a challenge since each part requires 20 spot welds with up to 7 complex brackets.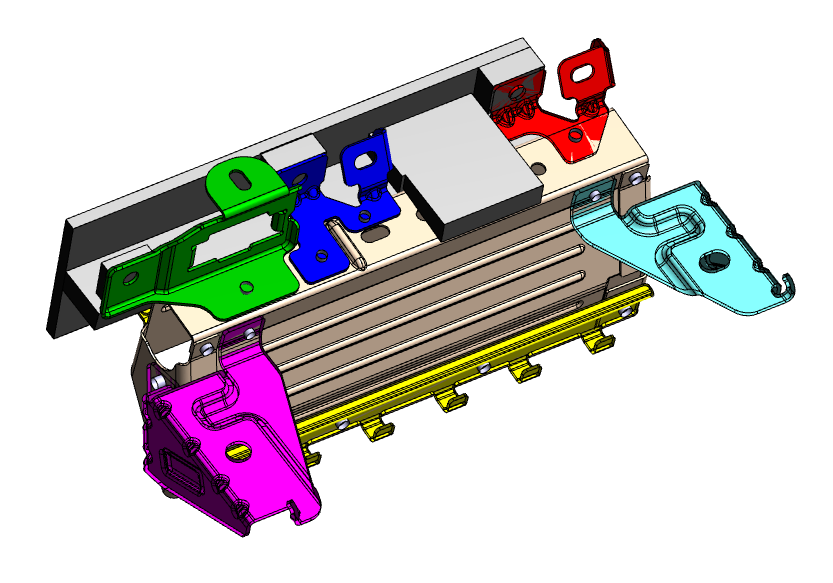 Solution:
3 standalone robot spot-welding cells integrated into a precision metal stamping manufacturing facility. OP10 will weld 2 hook brackets on the housing where OP20 will weld 5 brackets.
Controls
The operator interface will facilitate the manual operations and error recovery of the system through messages and status modification screens.
Standalone electrical enclosures will be mounted to the outside of the safety fencing near the work cell access door and HMI.
The integrated processor will control all the required input/output cards.
All cell communications will be performed through Ethernet IP between the cell controller, interface components, controls, and robot controller.
The cell controller will consist of push-buttons and indicators to activate and monitor safety relay status/reset and cycle start/resume.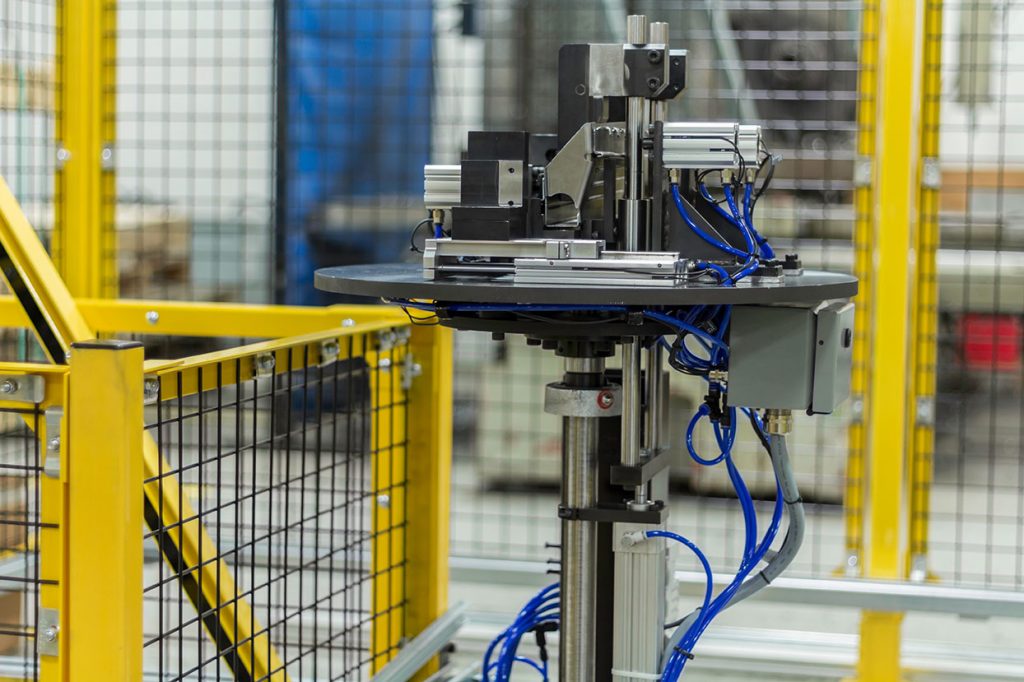 Fixturing, Robotics, & EOAT
5 custom fixtures with air/oil rotary controlled indexing capabilities.
2 interchangeable fixtures with dual servo drive aux-axis positioners.
3 refurbished Fanuc R-2000iB 210F robots with R-30iA controller.
3 modular pinch type robot transformer weld guns with customized shanks and electrodes.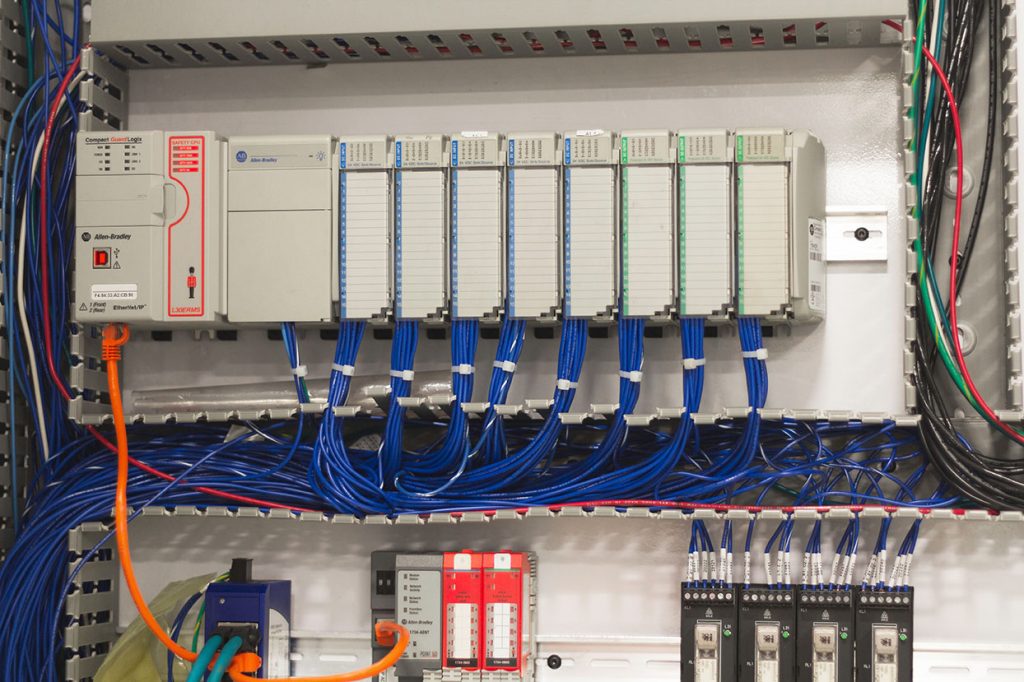 Safety
The robot work area will be guarded with perimeter guarding (16 ft x 16 ft) including 1 safety interlock personnel access gate per cell.
Entering the cell to perform scheduled maintenance and programming is simple as the safety interlock switch sends the robot into the e-stop status when the door is opened.
6 Request to Enter panels with integrated safety features.
Easy System Management
Because each part contains 7 brackets, the system needed to have a built-in collection of sensors that identify and confirm when a part is positioned correctly in the fixture.
If one bracket is missing the sensor associated with that bracket will not activate. The PLC will then signal to the HMI to display a message warning the operator a bracket is missing or not positioned correctly.
The improved communication between the equipment along with messaging will lower rejection percentage as defects are caught in advance.
Result:
Because the robot is capable of quick, precise and complex angular movements – the quality of the welds and cycle time were improved. The consistency of the weld positions greatly reduced the quality checks being performed and the rejection percentage.
4 unique parts totaling 440,000 annually while eliminating outsource welding and transportation costs by 27%.