Nachi SRA240 | Spot Welding Robot
Nachi Robotics SRA240 reduces spot welding cycle time by 30% over previous models.
The SRA240 by Nachi is a 6-axis articulated robot with 240 kg max payload and 2674 mm reach. The well-built compact body is the fastest robot in its class equipped with the latest generation FD11 controller.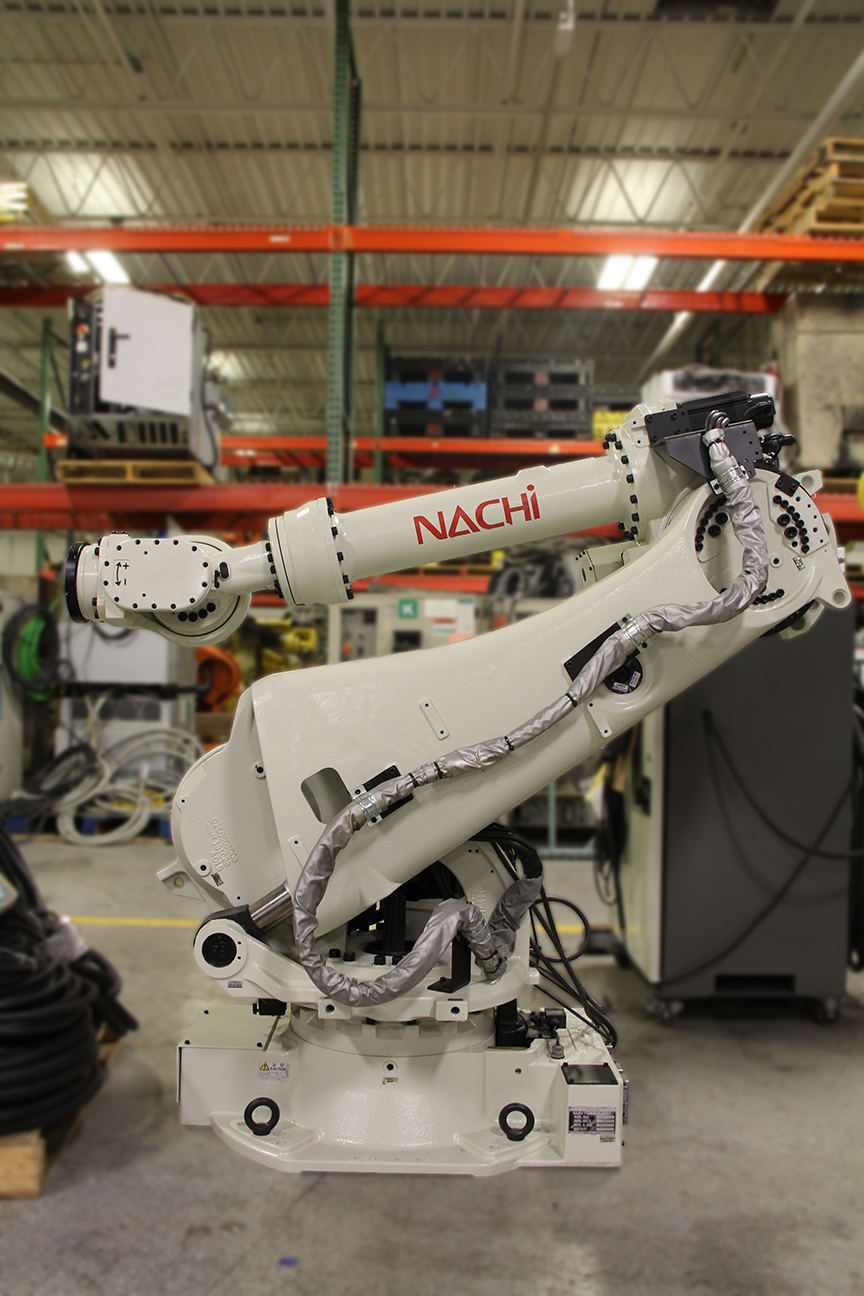 The SRA series enjoys a large install base at Toyota, Stellantis, and Flex-N-Gate. The SRA240 robot is a good alternative to Fanuc R2000 and ABB IRB 6600.
Efficient:
Power consumption reduced 15% from the existing model
Compact:
Slim base weighs 20% less with balance unit inside the arm
Flexible:
Axis 5 (wrist unit) operating range is the maximum in its class
SRA series robots and FD controllers are ideally suited for resistance welding applications.
The SRA240 and FD11 controller features high-speed gun motor control for fast open/close, high acceleration between welds, long tip life between dress cycles (greater than 400 welds), and pressure calibration up to 10 points.
Selling Pricing
| | | |
| --- | --- | --- |
| Refurbished | Used | As-Is |
| $17,000 | $13,000 | $9,000 |
Condition
Refurbished:
Restored to OEM Specs
1-Year Parts Warranty
Used:
Cleaned and Tested
No Warranty
As-Is:
Verified Complete
Not Powered Up or Tested
What's Included
The images show refurbished condition. We're glad to provide images of used and as-is by request. Purchase includes robot manipulator, controller, teach pendant, and necessary cables regardless of condition.
Nachi SRA240-01 Technical Specifications:
Series: SRA
Robot Controller: FD11
Type: Articulated Robot
Mounting: Floor Mount
Number of Axis: 6
Payload: 240 kg
Maximum Reach: 2674 mm
Repeatability: ±0.2 mm
Robot Mass: 990 kg
Applications:
– Machine Tending
– Material Handling
– Palletizing
– Spot Welding