Restore your robots
When a robot is unused or becomes unusable, it can become an expensive liability. Repairing and re-deploying an existing robot can save tens of thousands of dollars compared to buying new. Also, by repairing legacy robots, additional savings may be realized at the plant level with reduced engineering time and controls hardware cost when interfacing to existing systems. ICR goes to great lengths to understand the customers' requirements and will configure the robot with the needed software and hardware options. Our engineering and integration team can design, fabricate and install robot end effectors (EOAT) or assist with integration if needed.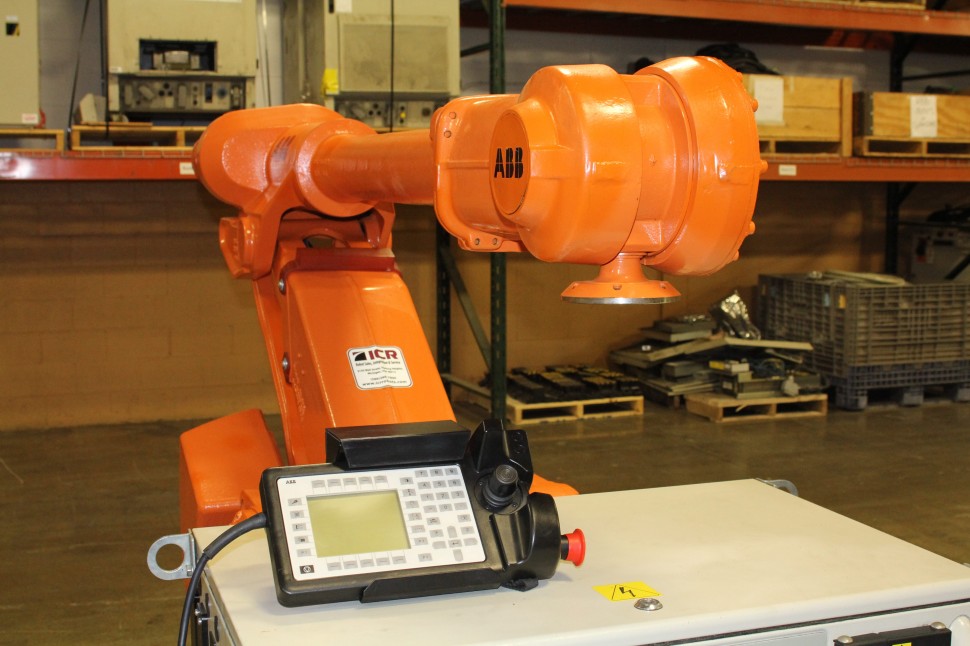 Robot Controller and Manipulator Refurbishment
Inspections
Inspect exterior and interior of the robot controller cabinet for missing, broken or incorrect components
Inspect all cables and connectors for the teach pendant
Inspect for proper input voltage set-up
Examine robot manipulator for missing, broken or incorrect components
Check castings on the robot manipulator
Assess robot manipulator for defective seals and oil leaks
Inspect counter balancer
Check hard stops and limit switches on the robot manipulator
Inspect all connectors and cables for the robot manipulator
Validations
Connect safety jumpers to be able to cycle robot without errors
Apply power and check for proper "boot up" sequence
Confirm teach pendant functionality with the robot controller and confirm all E-stops
Test J3 connections (EE/CS/CP/Air/Gas, etc.)
Check the robot manipulator for legible mastering marks or stickers
Secure robot manipulator to robot controller test stand and attach appropriate test weight to confirm operability
Install test program to exercise each individual axis on the robot manipulator
Conduct grease and/or oil analysis on each axis
Conduct backlash testing on each axis of the robot manipulator. Repairs performed if supplied report shows errors
Run robot manipulator brake test, with a pass or fail result. Technicians perform brake repairs after a failed a test
Install test program to exercise all robot manipulator axis points simultaneously
Identify any potential abnormal vibrations occurring any axis or motion of the robot manipulator. Repairs performed if vibrations detected
Rebuild
Clean inside and outside of robot controller cabinet, along with any cables/connectors
Clean or change/replace fans within the robot controller
Clean or change/replace batteries within the robot controller and label accordingly
Remove and clean all circuit boards, and servo amps within the robot controller
Switch filters within the robot controller
Replace any missing hole cover plates on the robot controller
Replace Axis Reducer / Gear Box grease per OEM specifications
Grease robot manipulator along all axis cross roller bearings, bushings, and joint bearings
Install new counter balance bushing kits on the robot manipulator
Replace all belts for the robot manipulator
Change batteries or battery pack for the robot manipulator, and label accordingly
Paint both the robot manipulator and robot controller according to OEM specifications
Adjust the robot manipulator over-travel limit switches as needed
Conduct final run of robotic systems for a minimum of 8 hours under a full load
Conduct infrared thermal scanning of bearings, motors and RV's of the robot manipulator
Refurbish your robot
ICR technicians handle industrial robot refurbishment with precision care throughout the entire process. From the initial cleaning to the final coat of paint, the refurbishment process provides customers with a high-performing, dependable robot. When running a production line, safety is always a top concern. ICR's technicians ensure each robot is reset to OEM specifications or greater after refurbishment.
Refurbishing a robot is more than painting and replacing the lubricant. Being the customer, you need to ask questions about the process and when time permits visit the facility offering the service. ICR welcomes visitations and technicians are always available to provide answers to all your questions.
Best Practices
Allowing an axis to run during a lubricant purge provides for a thorough grease exchange to occur. This process is far better than simply pumping grease in, until it's clear at the exhaust port. We may use more grease than usual, but the end result allow more contaminates to be flushed out.
Let ICR re-deploy your robots
Our ICR Field Services team re-deploys industrial robots back into their respective production lines. We deliver robots safely and securely, install the robot, and train employees on basic programming and troubleshooting. ICR also offers tailored operations for production lines.