Engineered testing capabilities for all mechanical repairs
ICR's mechanical technicians hold years of in-depth industry knowledge and equipment specific expertise, specializing in repair and refurbishment services for gearboxes, hydraulic and pneumatic pumps, actuators, and valves. To adequately evaluate all equipment or parts sent to our facilities for repair or refurbishment, our technicians utilize specialized diagnostic equipment. ICR developed this level of engineered testing to guarantee optimal performance and reliability of mechanical repair performed at our facilities.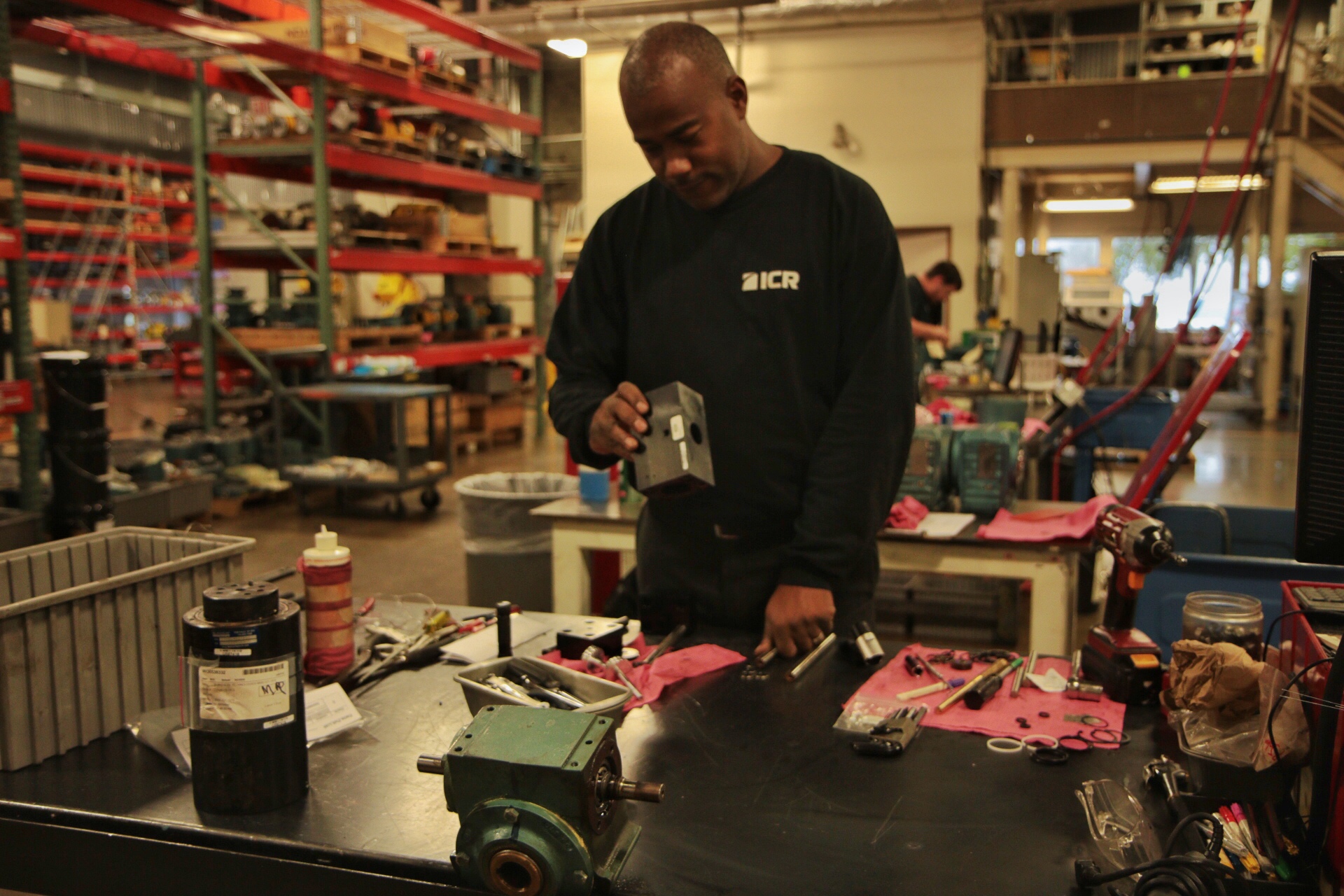 Supported Mechanical Equipment
Gearboxes
Indexing
Multi Ratio
Ring+Pinion
Reducers
Planetary Driven
Pumps
Pneumatic Pump
Oil Pump
Grease Pump
Slurry Pump
Vane Type Pump
Piston Pump
Actuators and Cylinders
Pneumatic
Mechanical
Lift or Pull
Rodless
Screw
Multi Stage
Electric Activated
Tools
Pneumatic Air Motors
Pneumatic Hoists
Pneumatic Tool Balancers
Pneumatic Hand Tools
Most Mechanical Hand Tools
Most Machine Tooling Components
Valves
Solenoid Valves
Ball Valves
Manual Valves
Mechanical Components
Robotic Wrists
Servo Motors
Spindle Motors
Supported Manufacturers
Gearbox Manufacturers
Albany International
Baldor
Bauer
Bosch
Boston Gear
Camco
Dynagear
Emerworm/tsabaki
Falk
Flender
Flow tork
Motovario
Neugart
Nord
Philadelphia Gear Corp.
Rimrock
SEW Eurodrive (Authorized Repair Center)
Wittenstein
Pump Manufacturers
ABB
American Stainless
Anlet
Bucher
Brinkmann
Comex
Delta power
Goulds
Graco
Grundfos
Gusher
Hilma
MP
Nachi
Pascal
Rexroth
SPX Johnson
SR Engineering
Triangle
Vickers
Actuator and Cylinder Manufacturers
Allen-Bradley
Bi-Torq
E Drive
Festo
Komatsu
Kraftpaket
Parker
SMC Pneumatics
Stanc
Toshiba
Industrial Tool Manufacturers
Aro
Atlas Copco
Cooper
Staco
Demag
Emhart
Endo
Harrington
Ingersoll-Rand
Jet
Kendrion-Binder
Knight
SCA Schucker
Simonds
*ICR Services is not an authorized Rockwell Automation distributor or repair company in any way affiliated with Rockwell Automation. ICRServices.com is not an authorized distributor, affiliate, or representative for the listed manufacturers unless explicitly stated otherwise. Designated trademarks, brand names and brands appearing herein are the property of their respective owners.