PLC-based control
Turbine contain usually one or two control systems, which act as the central brain of the unit in either the uptower or downtower or both. The control system serves two primary functions. The first is to ensure a safe reliable automatic operation and optimize output by regulations of yaw and pitch in relation to changing weather conditions. The second function deals with the handling of all communication interfaces and sort through collected, and stored operational data. The data is made available for further analysis and optimizational changes.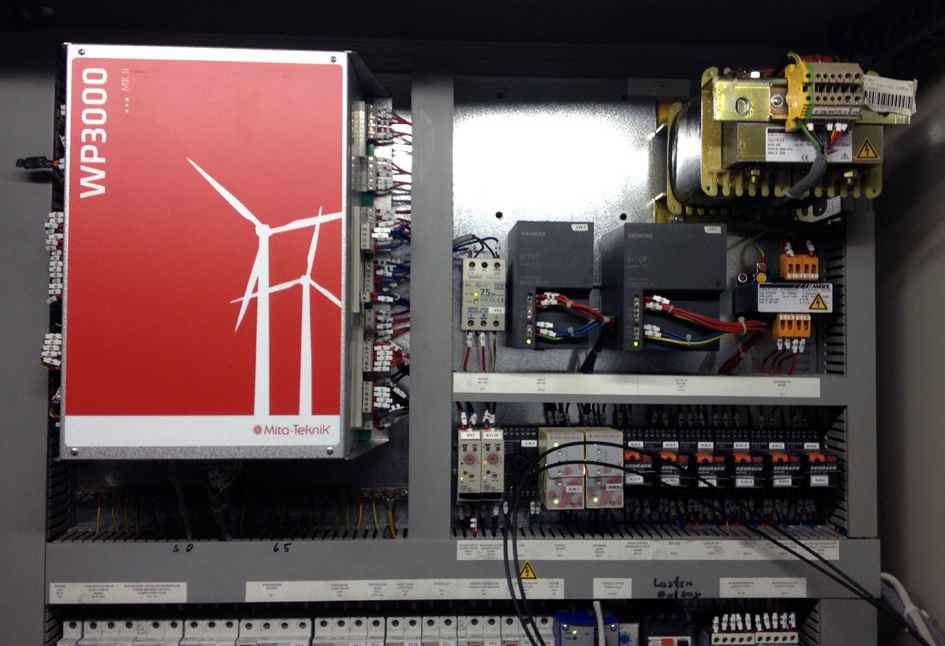 The WP3x00 MK ll Control System Platform
Mita-Teknik's WP3x00 MK II controller is specifically designed to provide our customers with the benefits of state-of-art communication interfaces and protocols. The WP3x00 MK ll controller ensures optimal operation, active security and advanced data collection. The WP3x00 MK ll Control System Platform builds on Mita-Teknik/ICR's extensive control experience and incorporates a number of enhanced features.
Advanced Features
Fast plug-and-play installation
Lower commissioning costs
More processing power to increase AEP
Grid measurement according to IEC61400-21
Fast communication via Ethernet
Supports MiConnect Mobile Diagnostic App
Precision and Excellence
Adherance to the IEC 61400-21 standard allows the control system's on-board grid interface to calculate main grid parameters by precise and reliable DSP algothrithms. The data delivered comes through the controller's double high-speed gigabit Ethernet interfaces, which operate a seperate network interfaces. Backing up the networking feature is safety chain relay logic.